Help
General
Whoa is this real? Vinyl records still exist?
100% real! Vinyl records never really went away though, it's always been here!
Can't find a particular album, can I request for it?
Absolutely! We encourage you guys to let us know what you guys want to see on our catalog. So request away and we'll do our best to get those titles for you!
Can't decide, do you have any recommendations you can share with me?
Give us a call or leave us a message, and our team will give you our personal recommendations according to genre and even time period!
Can I make a reservation for a record? Do I have to pay a down payment for it?
Of course you can! Just let us know beforehand, and we'll reserve that record for you for a week. And no need for any down payment to be made.
I want to check out your products personally! Is there somewhere I can go to?
Absolutely! You can visit us at our store located in 4th Floor, Mega Fashion Hall, SM Megamall, Mandaluyong. You can also check us out on selected Astrovision / Astroplus branches. Check out this map on which place is the nearest for you!
Hey we're having a bazaar, do you guys want to join?
Oooh! Send us the details at [email protected] and we'll check if we can join your event!
What about event sponsorships, you guys up for those?
Email us your proposals at [email protected], and we'll see what we can do about that.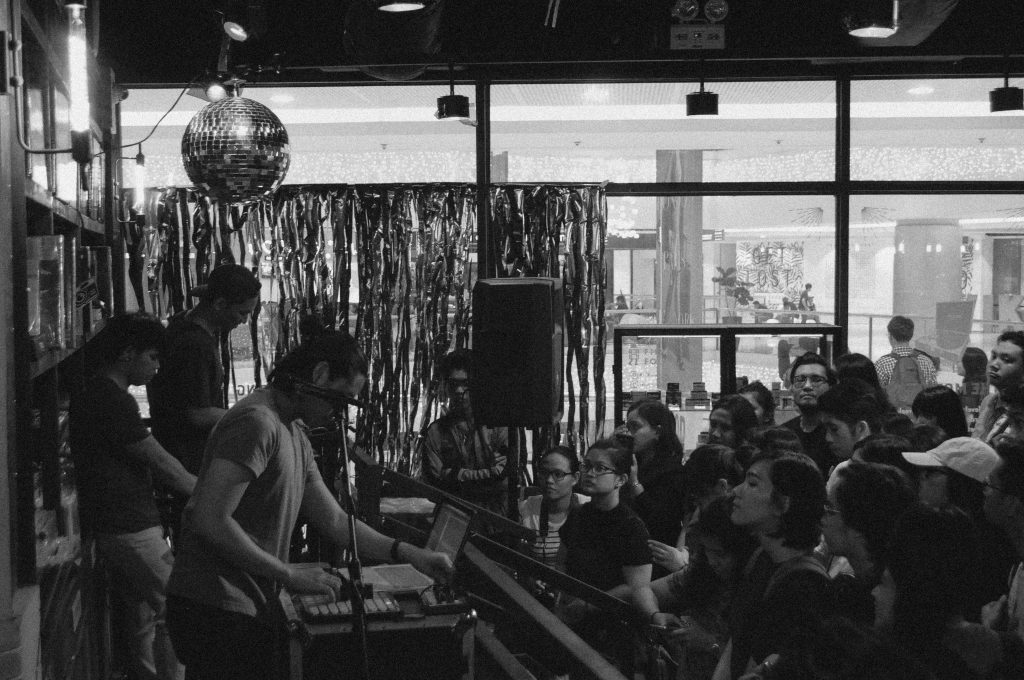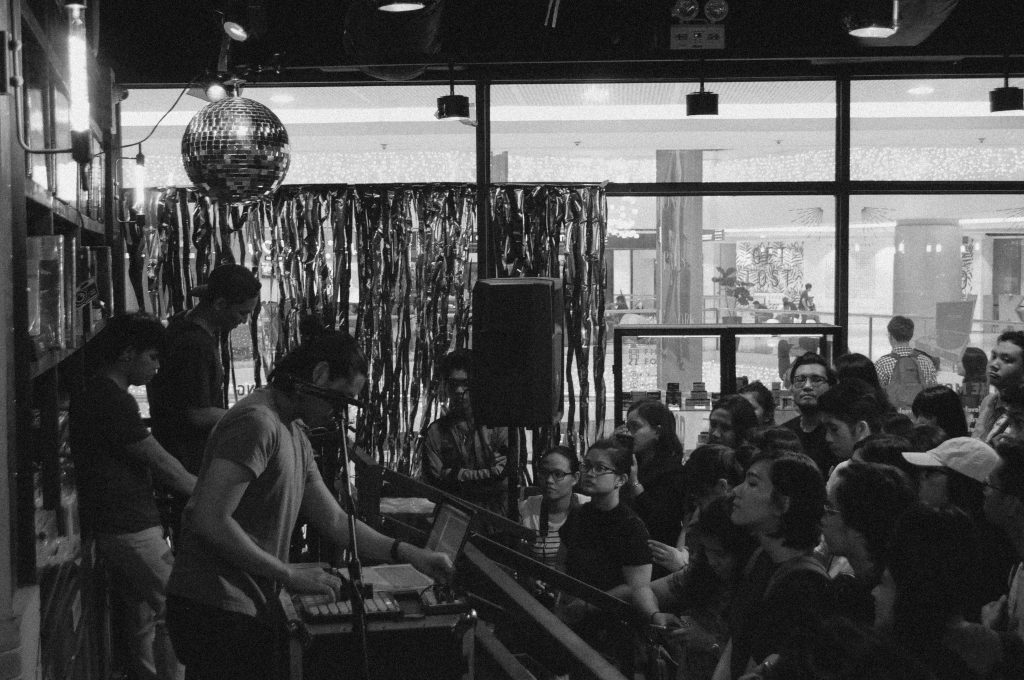 Products and Services
What are vinyl records?
Well vinyl records are an analog music storage format which contains the recordings of your favorite albums. You basically play it to hear awesomeness.
What's the Motorino?
The Motorino is our brainchild, it's an introductory turntable created for the purpose of helping new enthusiasts start their vinyl record adventure. Check it out further here: www.satchmi.com/motorino
What's the difference between your new and vintage records?
Our new records are all brand new and are sealed, while the vintage records are pre-owned records, some of which are of the rare kind. That is, if they haven't been bought as of this writing.
Are all of these original?
Yes they are. Don't worry, we don't sell any bootleg products.
What's up with the prices?
Vinyl records aren't manufactured as easily as it was before, so right now it really is considered a specialty and luxury item because of the costs involved with making it now.
Is there a warranty for your products?
Yup! Records and turntables have a 7 day replacement warranty, and turntables have a one year service warranty.
Orders
How to order?
Alright sign-in your Satchmi Experience account first. Then follow that up with adding your chosen records to your cart. Once you have all the products you want, head on over to checkout and choose your payment method from there.
How do I know if my order was successful?
You'll quickly receive an email confirmation of the summary of your order.
When are my orders processed?
All orders are processed on weekdays before 2PM for that day. So if we received your order on a weekend, it'll be processed and picked up by our courier by Monday. But if we received your order on a Monday after 2PM, it'll be processed and picked up the following day. Shipping takes around 2-5 working days depending on our courier and other circumstances (weather, workload, etc.)
Can orders be delivered in my preferred area?
All online orders would be delivered to the shipping address you've provided.
Can I pick-up my orders?
But we can deliver it for free instead! But yeah, if you prefer to pick-up your orders, just let us know in advance.
Payment
How can I pay?
You can pay via PayPal or through a bank deposit.
But I have no PayPal account.
Don't fret, you don't need a PayPal account to make the payment through PayPal. 😀
But is it safe to pay online?
Yes it is! It's completely safe and secure to pay for your goods through our website.
Why am I being charged much more?
Rest assured, we only charge and receive the amount for your total purchases made. But there are times when some specific credit cards would incur extra charges when being used for online transactions.
How do I pay via Bank deposit?
Just choose the Pay via Bank Deposit option during check-out, and we'll automatically send you the bank details and the amount you need to deposit. Then send us back your deposit slip within 3 days of your order so we can ship out your order!
Do you accept cash on delivery?
We use an external courier to handle all our deliveries, so COD is kind of out of the picture. But you can also just visit our store!
I have a Satchmi Gift Check / Voucher, how can I pay using that?
Ooh nice! Well just contact us directly and we'll process your order using your GC.
Returns and Replacement
I'd like to return my product, how do we go about that?
But why? What happened?
I don't like this record I bought.
Unfortunately, once you've opened it we can't replace the record just because you have a change of heart.
It doesn't sound nice at all!
Oh damn! Maybe it has something to do with the turntable you're using? Or maybe there's a manufacturing defect?
It's skipping and there seems to be some manufacturing defect!
Oh no! Well if that's the case then let us know about it since we'll have to check it out so we can assess the problem. Just don't forget to let us know within 7 days after you've purchased the product, since anything beyond that 7 days isn't valid for the replacement warranty anymore.
Can I have it replaced with a different product?
Unfortunately, we'll only replace the defective product with the same title as long as it's available. In case the same title isn't available anymore, that's when we'll replace your record with your choice of record.
I really want it replaced with the same album, but it seems like that was the last copy.     
Well then, we'll gladly replace that with the same album once we've received new stocks for it. The problem with this though is that there is no guarantee of the time frame for that since its all dependent on the availability of the stocks, so there is a chance you'll be waiting for a while.
Uhmm… can I just ask for a refund instead?
Refunds will only be done once we checked that the product indeed has a manufacturing defect and the item can't be repaired or replaced, and you'd rather get your money back.
Repair
Oh no! My turntable seems busted, what do I do?
Contact us right away so we can do repair it immediately! Or you can bring it to the Satchmi store for immediate attention.
Do I have to pay for the repair?
Not if it falls under the warranty period. J But if parts have to be replaced, then that's what we'll be charging for.
How long will it take?
It depends on the problem of your turntable, but it shouldn't take us longer than a week to have it back in your hands!
How will I send it?
You can leave it in any of our branches, or you can ship it directly to our office.
Account
Do I really need an account?
Yes you do. 😉
Oh no! I forgot my username and password!
Just email us and then we'll reset your username and password.
Want to talk to us?
Call (+632) 401-6905 or
send us an email at [email protected]
Don't hesitate to send us messages on social media too:
Facebook: facebook.com/satchmi
Twitter: @satchmi