Much like today's generation of vintage lovers, three of our featured collectors Richard Webb, Lyra Tan, and Ardiana Comia gravitate toward all things classic and rare, and keep up with the hunt of nostalgia through vinyl records. As younger collectors, however, their love for record collecting emerged from several factors: their predecessors, their mere fondness for music, and/or the desire to own something tangible from the past. Having gone beyond simply listening to and picking out records of old, they've branched out to newer artists, developing a very diverse selection of genres. Don't underestimate today's new breed of vinyl record collectors. You'd be surprised by their preferences, ways of thinking, and record habits.
L-R: Ardiana, Richard, Lyra
"You're revisiting the things that made an era of people happy." – Richard
What made you start collecting?
Ardiana: My dad also loves music, probably just as much as I do. He has a collection of compilation CDs since he's not really an album person. He knows what he likes and has a broad taste in music, but he's not really into collecting. I think what probably got me is the lifestyle, because I've always liked vintage ever since. It took me six years to actually buy a record player since I started collecting. Once I had one, I've been buying records every month.
Richard: I've always wanted to collect vinyl. I just never started. It sounds cliché, but it's so cool. There's just something romantic about collecting something that people [rarely] use anymore. There's something fascinating about collecting things that most people were once into. You're revisiting the things that made an era of people happy.
Lyra: Well, I first started collecting CD albums. Kurvine, my friend, was the one who introduced me to vinyl. He thought that, since I collected CDs, I might as well start collecting vinyl records. The first vinyl record that I got was Pink Floyd's Dark Side of the Moon. I actually didn't want to get this album because I wasn't really a fan of Pink Floyd at that time. Kurvine just held onto it while we were going around the store. After I got two records, he insisted that I should just buy it since it was sold at a cheap price.
"It really helps when an artist likes other artists; it makes it easier for you to listen to other genres." – Ardiana
What was the most memorable experience you've had in your search for records?
Ardiana: I think the most memorable one was when I went to Satchmi Vinyl Day, which also happened to be around my birthday. Since I was trying to complete my Gorillaz collection, in my head, I knew what I wanted to get that day. I wasn't sure if it would be available, but to my surprise, right when I entered the door, my first flip was Plastic Beach!
Richard: Going to Cubao for the first time! They have this quarterly thing where a lot of vinyl records are shipped over. There were just so many, I was overwhelmed. The fun part was the digging. I was in heaven.
Lyra: There was this one time that I went to this vinyl store and browsed through a crate of records. I found this 60s vintage album that another customer also wanted. I really wanted that record, but the other person got it, so I had to let it go. I was so sad!
Any record you got just because of gutfeel?
Ardiana: Aside from The Smiths' Meat Is Murder, I think it's one of Bobby Womack's albums. It's vintage and has a really cool cover. I'm not as familiar with the artist but I actually found out about him because of Gorillaz. It really helps when an artist likes other artists; it makes it easier for you to listen to other genres.
Richard: I heard it once on Spotify. It's called "Beck's Bolero." It's an instrumental album, mostly instrumental guitar. After listening to it on Spotify, I felt like I needed the record. The moment I found it, I just had to get it.
"Although [record collecting] hasn't led me to meet significant people, it brings me closer to people. It brings me closer to the friends that I already have and the friends that I'm about to make." – Richard
Has collecting records ever led you to meet a significant person or a new friend?
Richard: Not really. When I meet new people, it's a topic that I bring up sometimes, like a conversation starter. From there, we'll just talk about music and our favorite artists for hours. Although it hasn't led me to meet significant people, it brings me closer to people. It brings me closer to the friends that I already have and the friends that I'm about to make.
Lyra: I first started collecting records when I was exploring different music scenes, so I had a lot of interesting conversations with various groups of people.
How do you envision your record collection in the next few years, maybe 3-5?
Ardiana: I follow a lot of collectors on Instagram, and there are some really intense ones that probably have every pressing of something. I'm not sure if I'll go that far, but I just want a library of records enough to fill a room. A listening room would be fun to have, or maybe have my records placed somewhere near a window.
Richard: I'm pretty sure everyone would want it to be like that, like one wall filled with records and have them all arranged with speakers. For me, I think I'd like to make it my work area, so I can listen to music while working and editing stuff. You know, when I'm in the mood, I'll do the search. I love the idea of me just searching through my huge collection and placing it on my turntable, while I work. It's fun to dream about. I see them in crates, on shelves. I dream of having all the classics, all the best albums. At the moment, I'm still exploring and am at that stage where I want the best. Eventually, I'll make my way towards the more obscure records.
What's your go-to record?
Ardiana: Happy Mondays. It's a yellow record because it's a Record Store Day release. This is my Monday music in the morning, because it's such a fun record to listen to. It's super 90s. Imagine a bucket hat and really neon vibes. I also like listening to The Last Shadow Puppet's Everything You've Come to Expect, whenever the sun sets at 6PM. That's my go-to whenever I start feeling like a "tita" (aunt)—with wine in hand, getting a bit tipsy while listening to a record.
Richard: It's usually Fleetwood Mac, but not just any of their albums. It's specifically Rumours. That's the one that I listen to on a regular basis.
"I collect records, because it says something about my life." – Lyra
Any advice to new vinyl collectors?
Ardiana: Research. Lots and lots of research. Some would probably just dive straight into it, but it's a really expensive hobby, so I don't think you should just buy something on a whim. I think you should always know what to get and how to get it. I didn't know a lot of it until I was about to purchase, so I researched a lot. I was shocked by how much I didn't know and by how many factors I should take into consideration.
Richard: Budget wisely. Know when to not dig, because you could start out thinking, "No, I'm not gonna buy anything," then see something you like and buy it. You have to know when to stay away from temptation. Don't put yourself in a situation where you'll end up buying more vinyl records. When you hit your budget, stop.
Lyra: You should start buying! This is a kind of personal thing for me. I collect records, because it says something about my life. Every song that you listen to [can say] something about your experiences, the people you meet—that's why you should start collecting! When you get a vinyl record, you feel like you're part of the songs, the music, even part of the band.
ARDIANA COMIA
"…one of the things that would actually make me want to buy it is if the artist is from the same country where it was pressed."
We noticed that you travel a lot and even attended international music events during your trips. Among those who performed, were there any bands whom you've already been listening to on vinyl?
Gorillaz! I went to Fuji Rock by myself, solely because I knew that Gorillaz was gonna be there. It was automatically a non-negotiable for me. Humanz was actually what drove me to go there. They haven't been touring for seven years, so when I found out that they were performing, I really couldn't miss the opportunity!
Which Gorillaz album is the best one for you?
I'm torn between Demon Days and Plastic Beach, but I cannot get a hold of Demon Days at the moment.
What album would you recommend to someone traveling to the countries you've been to for an on-the-go playlist?
I would highly recommend Graham Coxon's A+E. Not a lot of people know about him but he's the guitarist from Blur. He has this solo album, which I think is his latest one from 2012, and I highly recommend it! It has ten tracks. It's raw, grungy, and out of this world. I think this would be a great album to listen to while in Tokyo because of the vibe that everyone's rushing around.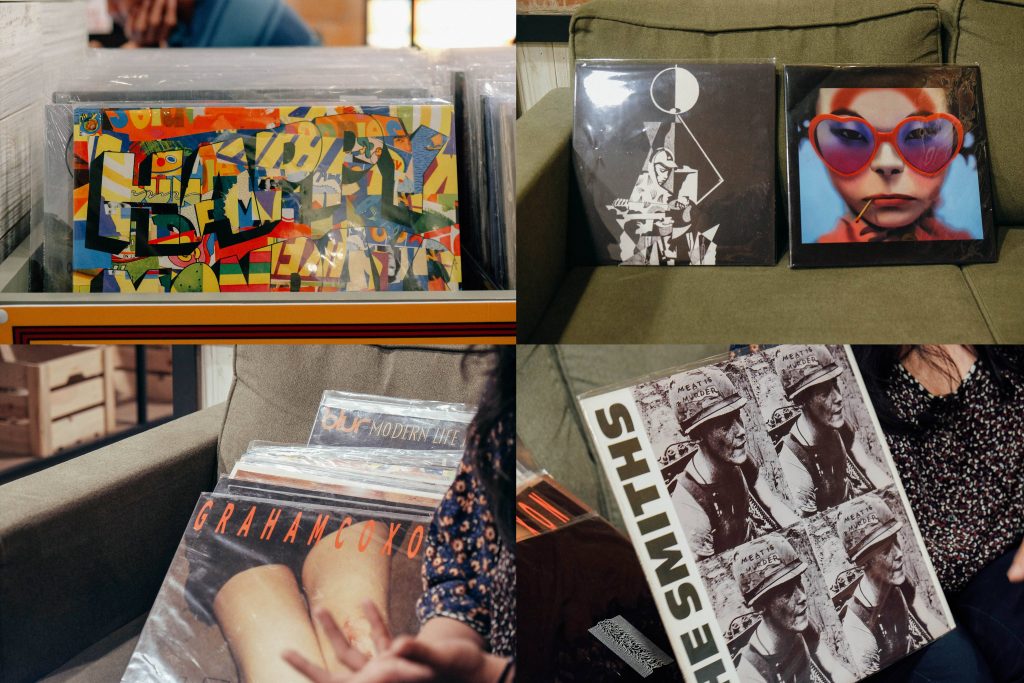 Do you have any complete discography of an artist or band?
Not yet, but it's almost complete! My goal when I started collecting records was the entire discography of Blur. I was expecting to get their self-titled album last December, but there wasn't any available, so I got other records instead.
What music do you listen to the most?
Brit rock. Their lyrics are interesting. Some of them, like The Libertines, have poetic lyrics, and I really love that! Blur's Modern Life is Rubbish is also one. They're very in tune with their culture and country, and I just crave for something like that. Listening to them is my way of just being a part of something even though I'm not from there [laughs]. I just admire the whole landscape of the UK—from films, music… everything.
Have you been to the UK?
No, I haven't. If I do go there, I don't think I'll ever want to leave. The music there is crazy!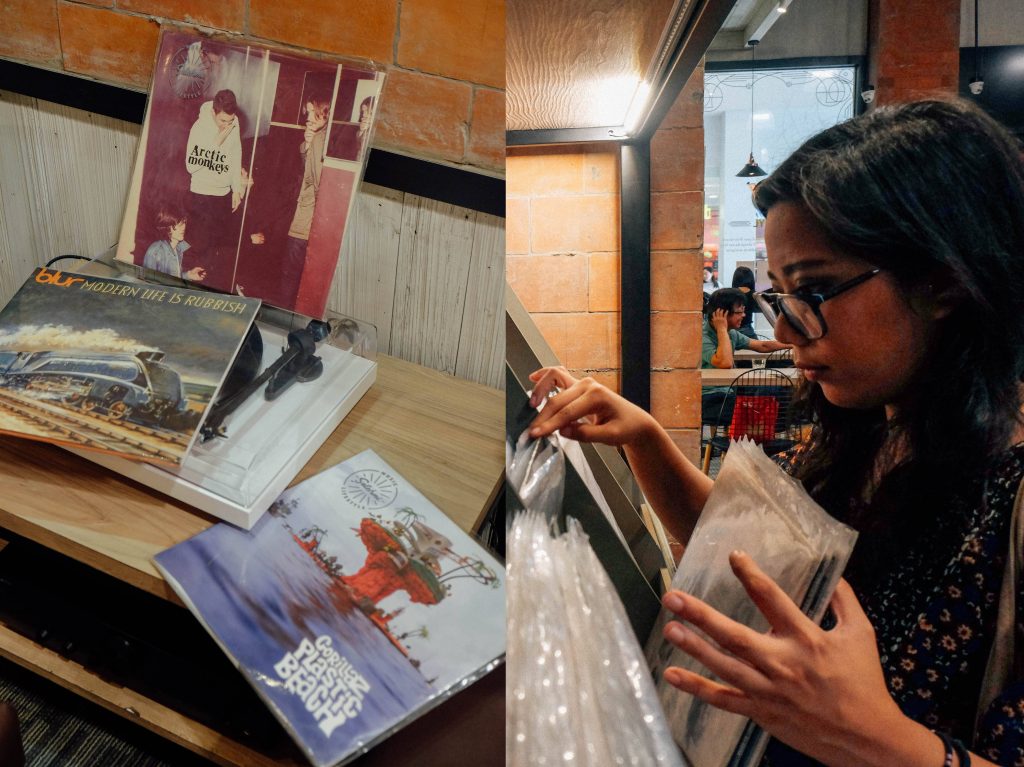 Out of all the countries you've been to, if you've ever dug around for records, which ones would you recommend?
I went to Spain, and that was where I got my first record because I wasn't really aware of the vinyl culture here in the Philippines. Back then, I knew what I wanted and that was Unknown Pleasures by Joy Division which I found in a rack at FNAC which is like their version of Fully Booked. I even got a mug that accompanied it! I would suggest going to Spain because they have good markets for records, but be wary because a lot of them are fakes. I bought a couple of Beatles records in Barcelona since I wasn't really aware of how records were at that time. When I searched for one of them on Discogs, apparently it wasn't the real pressing! I was bummed because when I finally got to listen to them, it was okay but it didn't sound right.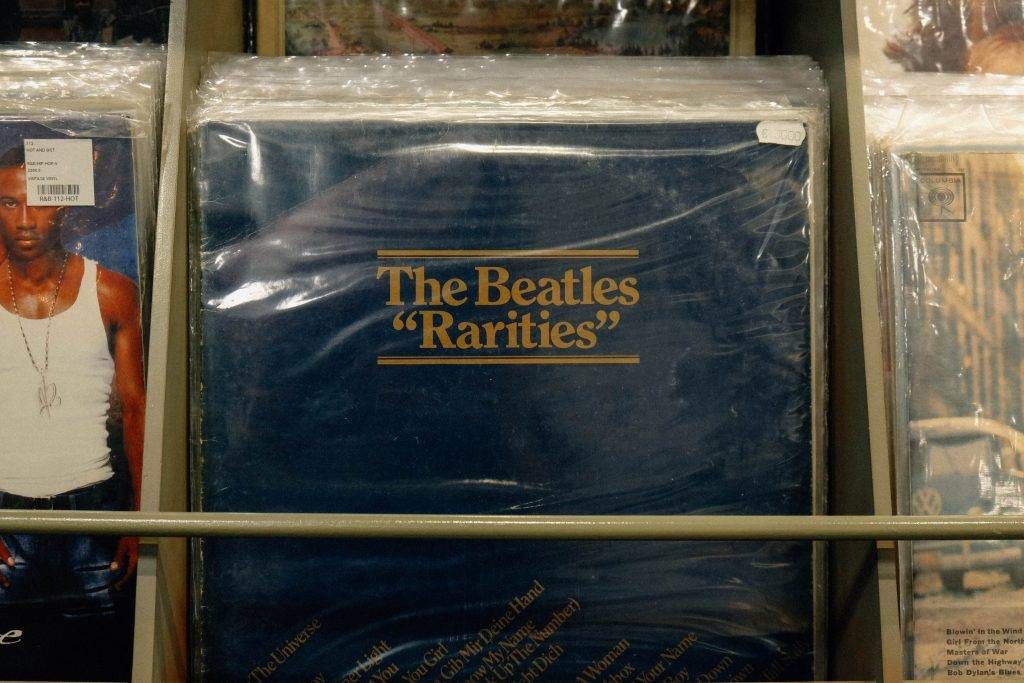 How particular are you know when you dig for records?
Whenever I'm at a record store and I find a record that I want, one of the things that would actually make me want to buy it is if the artist is from the same country where it was pressed. So for example, if the band is from the UK, I want the record to also have a UK pressing. However, there was one instance wherein I went to a vintage record store with my dad. I saw this Smiths record which was pricey. It was the first pressing but it was a US pressing, so I was really iffy about it. It was the only thing I wanted in the store, so I got it anyway. We went home and I listened to the record with a lot of doubt at the back of my head. However, when I flipped it to the next side and the needle started scrubbing through the record, I heard a familiar sound and the hair on my arms started to go up. I was surprised to hear "How Soon Is Now?" which is my favorite song from them. They don't have that single in any other records and it's actually a hidden track here! It made the purchase so worth it!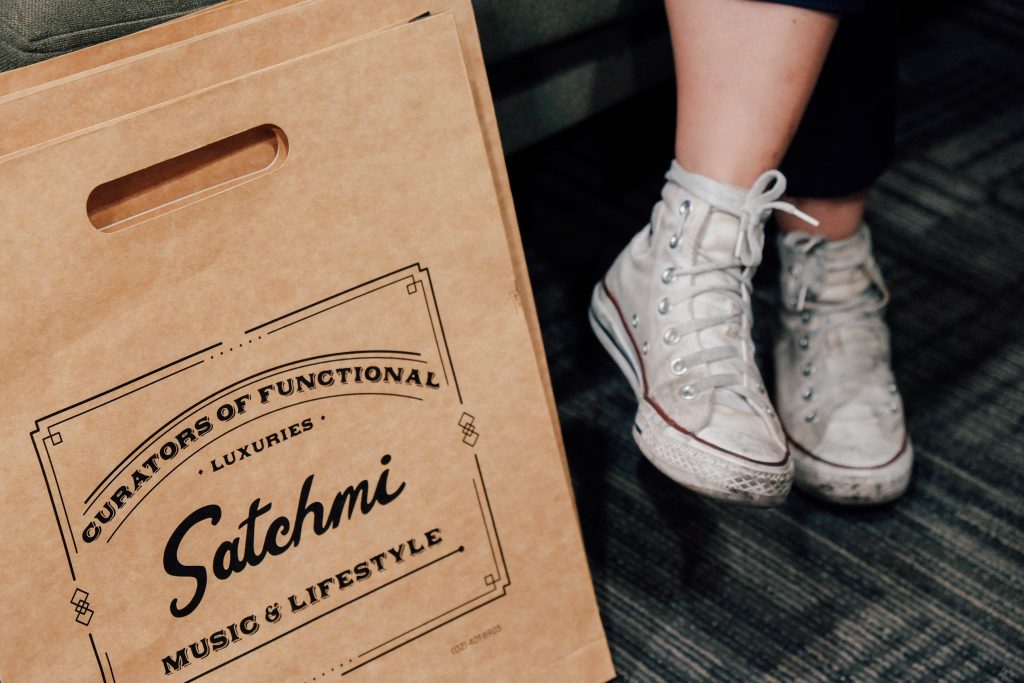 Are there any other records that you want in your collection apart from Blur and Gorillaz that you've been scouting for?
Well, I really want to get The Beatles, but I'm not sure whether I would get Mono or Stereo. I think both are okay because the latter albums are better on Stereo. I've also been eyeing on Cream. I also want to complete Arctic Monkeys.
You buy from Satchmi often. What was the best record that you got from us?
I think the one that I love the most would be my most recent King Krule record. I really try to expand the kind of music that I listen to, but I just can't help but go back to it!
RICHARD WEBB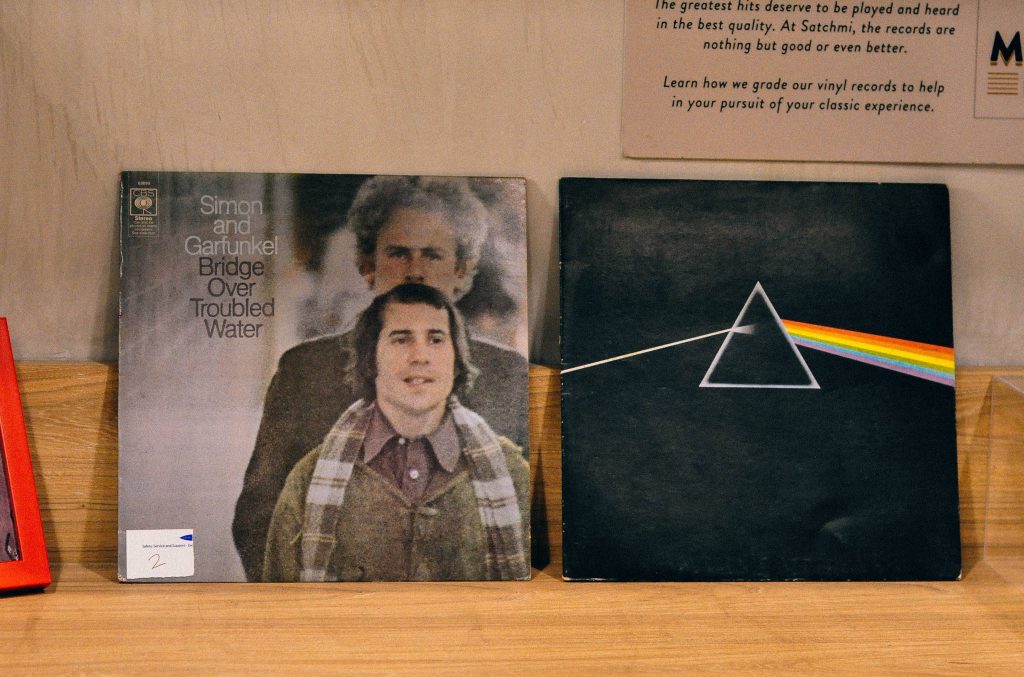 "I also ordered a first pressing of The Dark Side of the Moon, so now I've got two. It's nice to have two. That way, you can rotate them."
Did you ever collect CDs or tapes?
No, so this is really the first tangible music that I'm collecting. I bought, like, one CD. It was an Elvis Presley "Best of," because I was into Elvis when I was a kid.
How did you get into collecting classics?
My dad. He was very into new wave, like 80s and 70s. I started listening to his music, and from there, I kind of branched out and started listening to other classics. He was the one who taught me to listen to music. On a random day, he'll share music with me and be like, "Watch this video of this band playing live back then," "Watch them play this song now," "Look how old they are!" and everything. My dad easily gets excited by his bands, and I'm kind of inspired by that. Now that he's seeing me collect records, he feels bad for throwing his away.
Is there anyone you're into among today's newer artists?
Of course! I have a lot. Most of my favorite artists are from today's generation.
Anything that's in the mainstream?
It changes constantly, but my constant #1 is Fall Out Boy. I'd want to have their first 3 albums on vinyl—especially, the third. A lot of people hate it, but I love it, because it's very different from the other two. There's also Switchfoot, The 1975, Bruno Mars, Arctic Monkeys, and Coldplay. I feel guilty for not having any Arctic Monkeys album, especially AM.
Do you have any records by them?
No, but I do plan to get some. I told myself I want to get into classics first, because vinyl records were made during their time, and I'd like to enjoy the medium in which they shared their music.
Are there other genres that you haven't explored yet but want to get into?
Reggae. I don't know anything about reggae, and I think that it's something that I could get into eventually.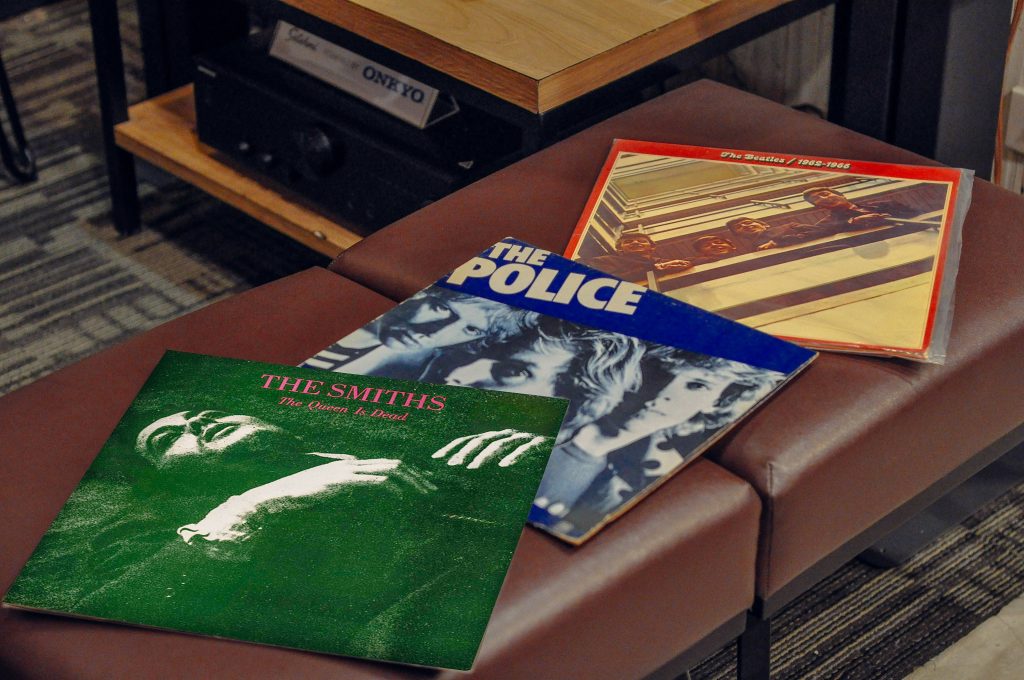 How do you fund for your records?
I work. I really have a budget for them. Sometimes I get extra side gigs and that's where I get my vinyl budget from.
Do you have any friends that collect records?
No. That's something that I'd love for them to get into, but they're just into other things.
Are you particular with your sound system?
No, because that's something that I'm still trying to understand. There's more to it than I realized. For now, my current system is one of Audio Technica's beginners and just your simple speakers. I hope to upgrade it eventually, but not yet.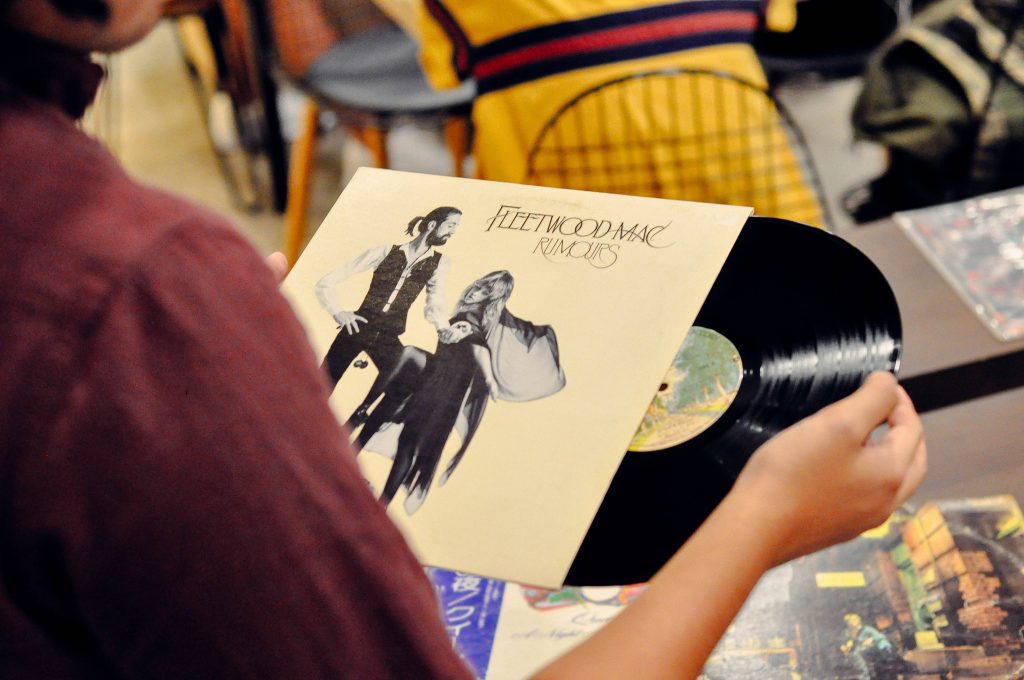 What's a record that you feel is relevant for all of your moments in life?
It's definitely Rumours. I discovered Fleetwood Mac through Spotify, and their top song was "Dreams." After listening to it, I was just like, "Wow!" There's always a song from that album for a specific moment in your life. There's just so many emotions in the album, having a lot of songs that make you feel alive.
What was the most interesting record you've gotten, and what about it did you find interesting?
Queen's A Night at the Opera. The cover, the songs, the way the songs are arranged, the different genres in the album… It's a mix of a lot of things. It's such a beautiful compilation of different emotions, different sounds, and you can really see the artistry behind Freddie Mercury. It's a genius album that I can never wrap my head around how genius it is.
Let's talk about your videos. What kind of video have you not shot yet and you'd wanna work on in the future?
Last year, my goal was to make more music videos, and now I have two music video projects on the way that i'm DOP-ing for. I'd want to do a music video one day where I'm the director and I conceptualize the idea. I'm sure it's everybody's dream to make their own music video, with their own aesthetic, their own visuals, and their own story. They don't just want to be the cinematographer or the effects person. I want to be the main mastermind behind this music video.
Have you ever listened to an album or a song, and it made you think: "It'd be so nice to direct a music video out of this"?
"Moonage Daydream" by David Bowie. There's a lot of imagery that you can relate to that song. There's space and David Bowie's different characters and theatrics.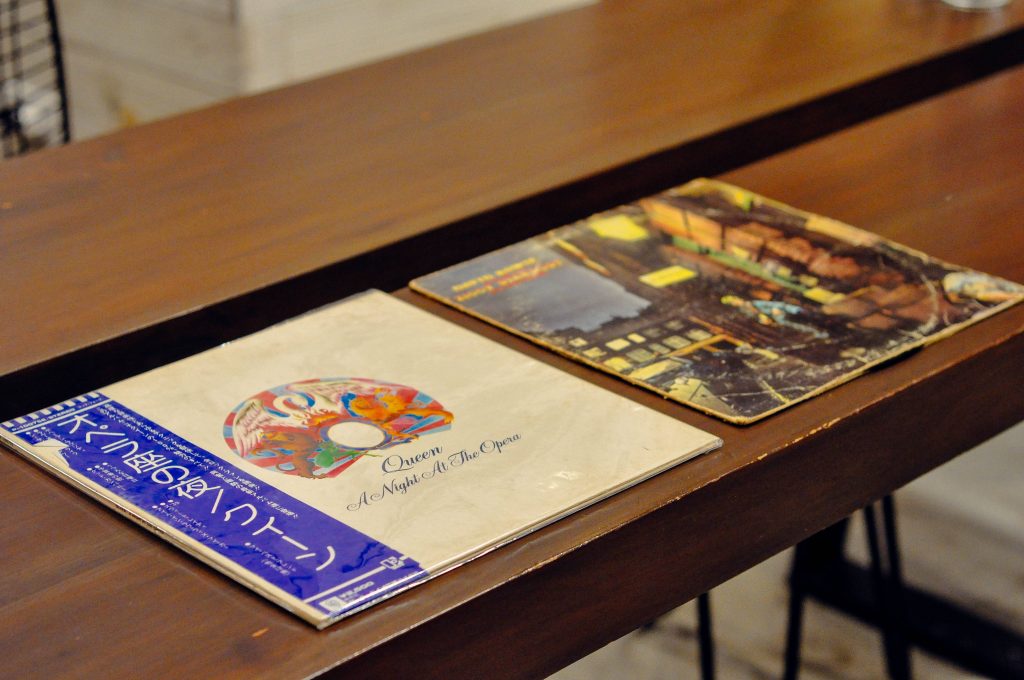 We've seen a couple of your projects and it made us wonder—Have you ever used any music in there inspired from your vinyl records?
Yes. Recently, a lot of my songs are more jazz-oriented. I got into jazz when I started collecting records 4 months ago. After listening to a lot of jazz, all the royalty-free music that I use now have some jazz or funk feel to it.
How do you usually choose your music for your videos?
I usually start with the character of the person I'm filming and base the music from the mood that they exhibit by going to a music website and explore genres. It's usually the music that I start with, when editing a video. The music is always the most important to me because it sets the mood and influences the pacing of the video. It's, like, 50% of the video. However, there are times when the song, genre, or the mood isn't specified, so sometimes I have to go through different songs until I find the right one for that video.
Who do you look up to, in terms of directing?
The Coen brothers, David Fincher, and Wong Kar-wai—although, I've only watched 3 or 4 of his films. I'd like to get into Wong Kar-wai's cinematography more. From the few I've watched, there's so much emotion and pretty imagery, because it's not "pilit" (forced) like a lot of filmmakers' today. His is very authentic, having a motivation behind it. It isn't just to make things look pretty, but to tell a story.
Tell us about records that you brought with you. 
Pink Floyd's The Dark Side of the Moon: I listen to this album a lot. I first discovered Pink Floyd because I was exploring 60s/70s/80s rock. For a time, I was getting into weird-sounding rock, and a friend recommended Radiohead. I listened to Kid A, OK Computer, and In Rainbows. It wasn't just one song that stood out in each of the albums. It's the whole album that you have to listen to. Radiohead gives you a very weird, eery, profound feel. There's just a lot of depth to their albums.
The Smiths' The Queen is Dead: I couldn't find this anywhere and had to search really hard for it. None of the stores I've visited were selling this one. I'm lucky I found someone who was selling it. I'm really proud of this one because it's an original press. I also ordered a first pressing of The Dark Side of the Moon, so now I've got two. It's nice to have two. That way, you can rotate them.
The Beatles/1962 – 1966″ – The Beatles
I think everybody should always have one of their compilations. You can never get enough of The Beatles. It's another album for every moment in life. Besides this, I have "Hey Jude" at home. I'm also trying to find Rubber Soul and Revolver at the moment.
LYRA TAN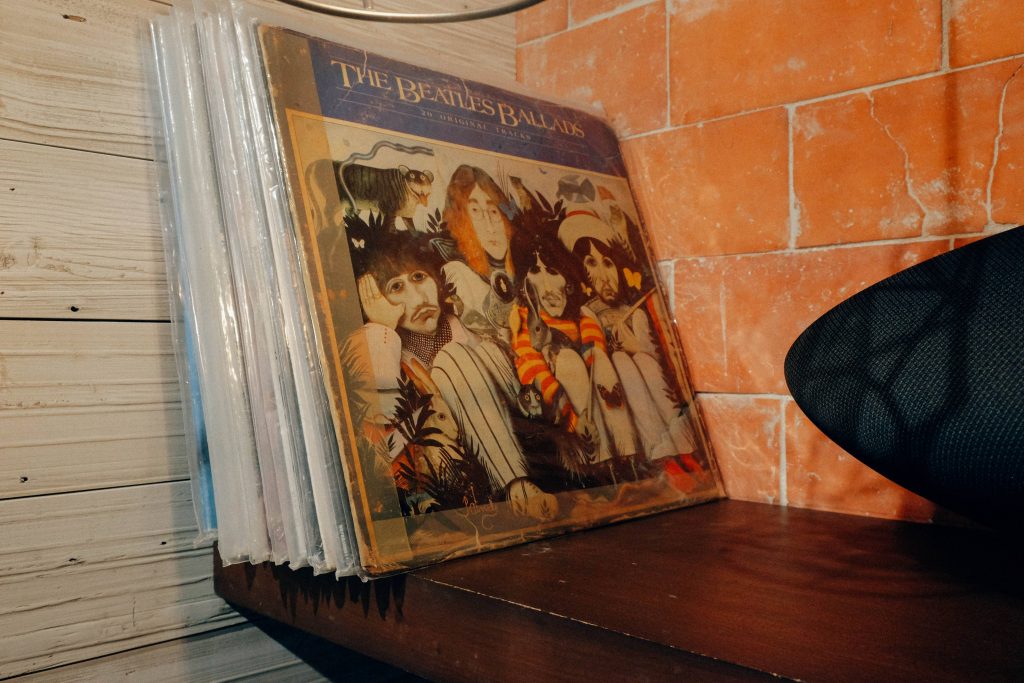 "When I look at landscapes, I usually listen to Classical music like Bach and Beethoven or something indie or European like the Last Dinosaurs and The Wombats."
How would you describe yourself as an artist? Tell us about your art style. 
I'm a traditional artist. I do pencil illustrations and multimedia arts. I like to draw what I feel or what mood I'm in. It could even be a topic or issue in today's world. I'm very into psychology, so I tend to relate philosophies to my art. I usually draw figure illustrations, portraits and everything that say a lot about how I feel about the world and everything.
How does music influence your art?
Depending on my mood, I listen to music that describes it. Like, when I'm angry, I'll either play something that relates to how I feel or something that will calm me down.
What are some of your largest art influences?
I have a few artists that I follow on Instagram, like @inlander. I like @inlander's art style for the use of saturated colors and very expressive facial expressions that really show certain emotions in all his works. I also follow @elfandiary. I love how he composes his figure drawings.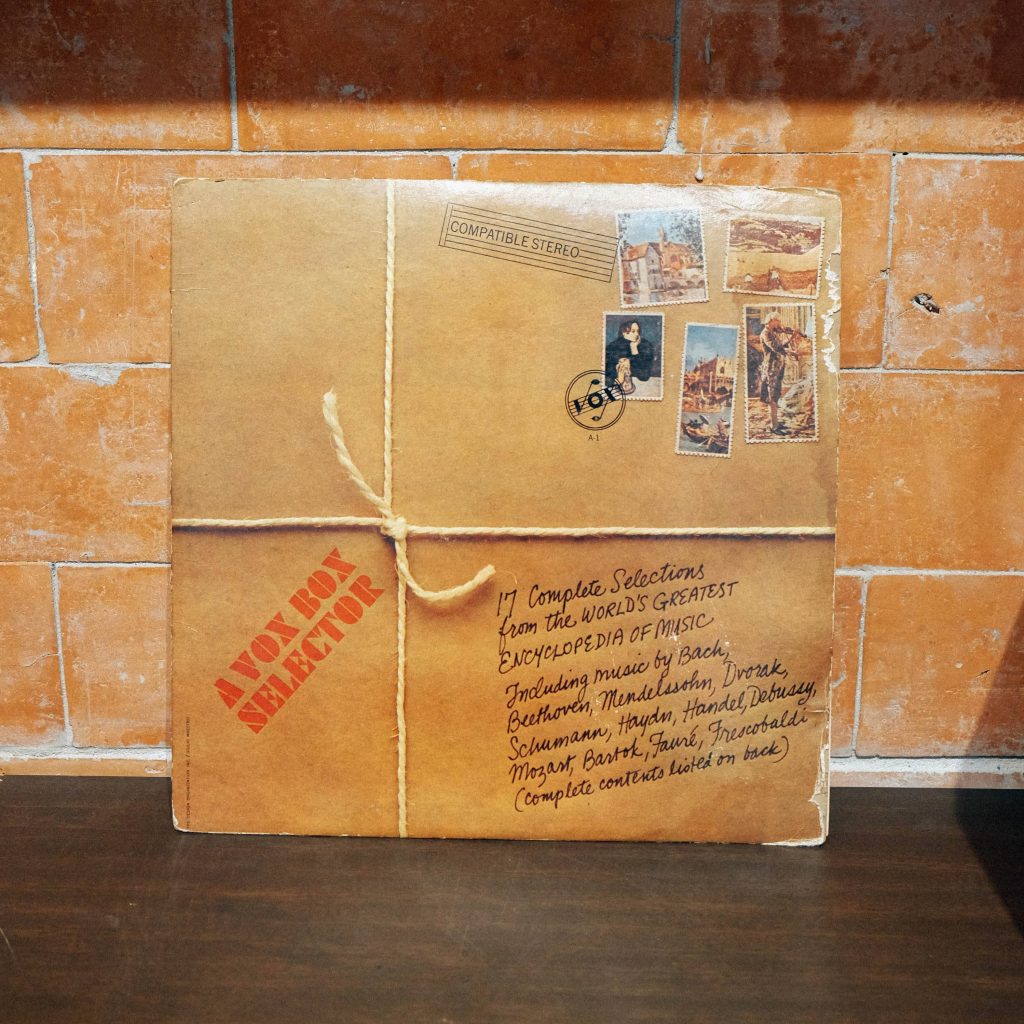 You do photography as a hobby as well. You must take a lot of atmospheric/scenic photos. Do you also associate music with them?
Sometimes. When I travel to other countries, I enjoy looking at landscapes and architecture, since I'm an architecture student. When I look at landscapes, I usually listen to Classical music like Bach and Beethoven or something indie or European like the Last Dinosaurs and The Wombats.
Did you have a turntable at that time?
That's funny, because I got my turntable from Kurvine when during his thesis two to three years ago. He didn't give it to me. I won the turntable from him. He held this raffle draw twice, and each time I won.
How many records do you have already?
Since I don't really have much money, I've only got 20 records.
What's your favorite era?
Oh my gosh, I really wanna go back to the 60s! I really like how they composed their songs. I don't know, but it's very calming for me. It's so versatile and very different from today's music. I just really like weird sounds and experiencing new things like experimental music. Classical music is also one of my go-to genres.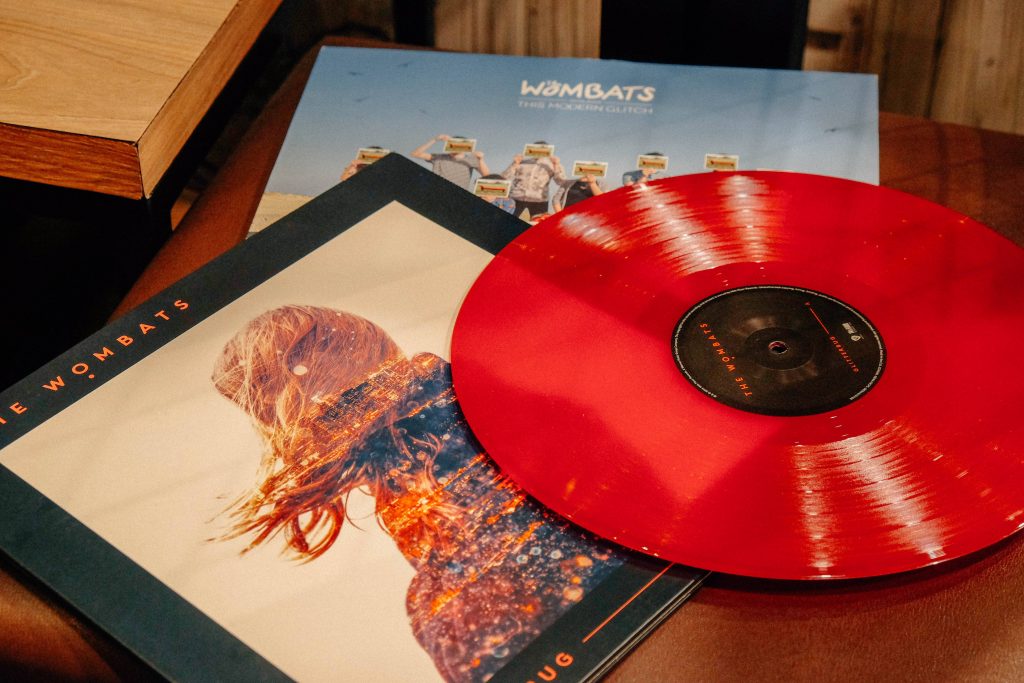 Who introduced you to music?
I think it was my dad, when he started playing his guitar. He just played this really nice Beatles ballad called "Blackbird," and I really liked how it was so mellow. Before, my dad didn't like the idea of me collecting records, so I had to pay for everything on my own. He couldn't really do anything about it, so I just kept on buying. However, I feel like I'm more of the person who influenced my family to listen to music. [In fact, I have] The Beatles Ballads by The Beatles. It sounds old and nostalgic, so it gets me to remember the old days with my dad, when I was around 12 years old.
Are there any genres that you haven't explored yet but want to get into?
I'm curious about reggae. I'm actually starting to get interested in the reggae scene and listening to songs like Bob Marley's "Is This Love?" I forgot what it's called, but I also want to explore the Euro disco scene that sounds kind of repetitive but has a strong beat.
Are there any other records that you really want but don't have yet?
Paramore! Hayley Williams is my idol, so I really want to complete all her albums. I also want records from My Chemical Romance and Fall Out Boy.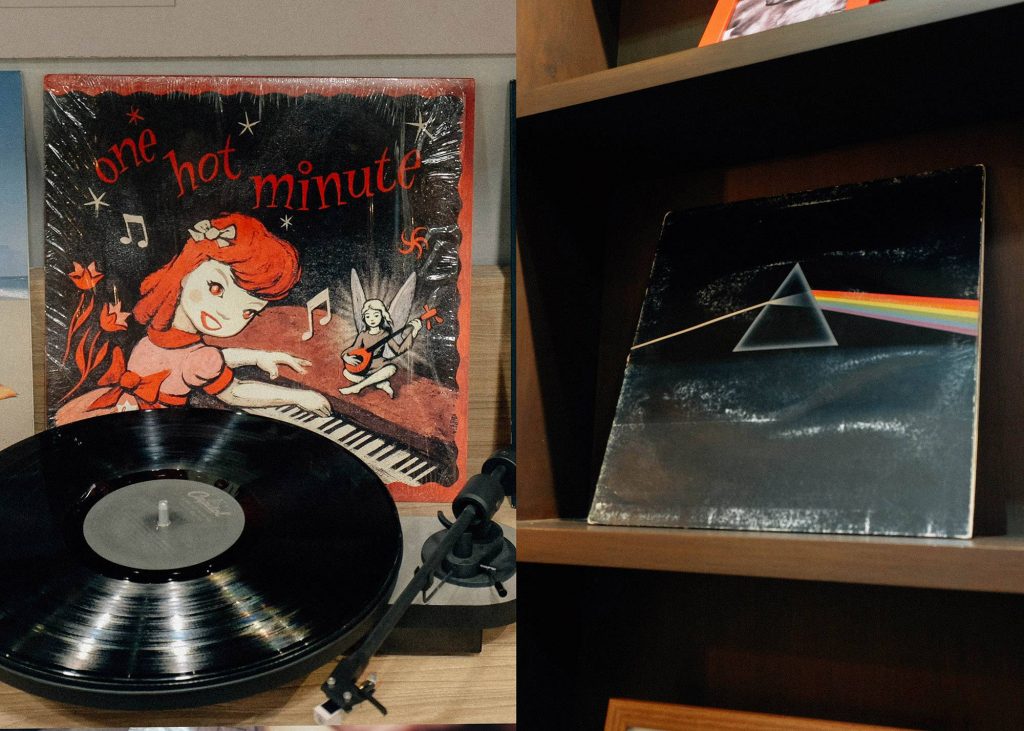 What was the most interesting record you've gotten? What about it did you find interesting?
Glass Animals' Zaba. This one was the first record that I thought was weird, because it had this kind of experimental sound that I really liked. It had different types of animal sounds.
Some people build their record collections as tributes or memorabilia and envision them as a certain corner in a room or an actual room of records. How do you envision your record collection?
Right now, I just have a box where I put all my records in, but I imagine having a shelf of them in my room.
How often do you listen to your records?
I try to avoid scratching my records since I don't want end up destroying any from my collection, so I only listen to them like once a month.
Interview and words by Eunice Honrado
Videos by Mike Sanchez