Nothing can compare to the warmth and nostalgic sentiment that can only be felt from things vintage. This seems to hold true for Emerson Gamat, who is not only a maker of his own music, but also a passionate listener of it. His discovery of his father's vintage records led him to rediscover the unique experience of appreciating music through vinyl. Those records plus the new ones he has added to the collection made Emerson fitting to be the Satchmi Record Store Day winner. He gushes to us about some old school artists and classic records that have influenced his music and even changed his life, proving that vintage may be a thing of the past but still transcends to the present.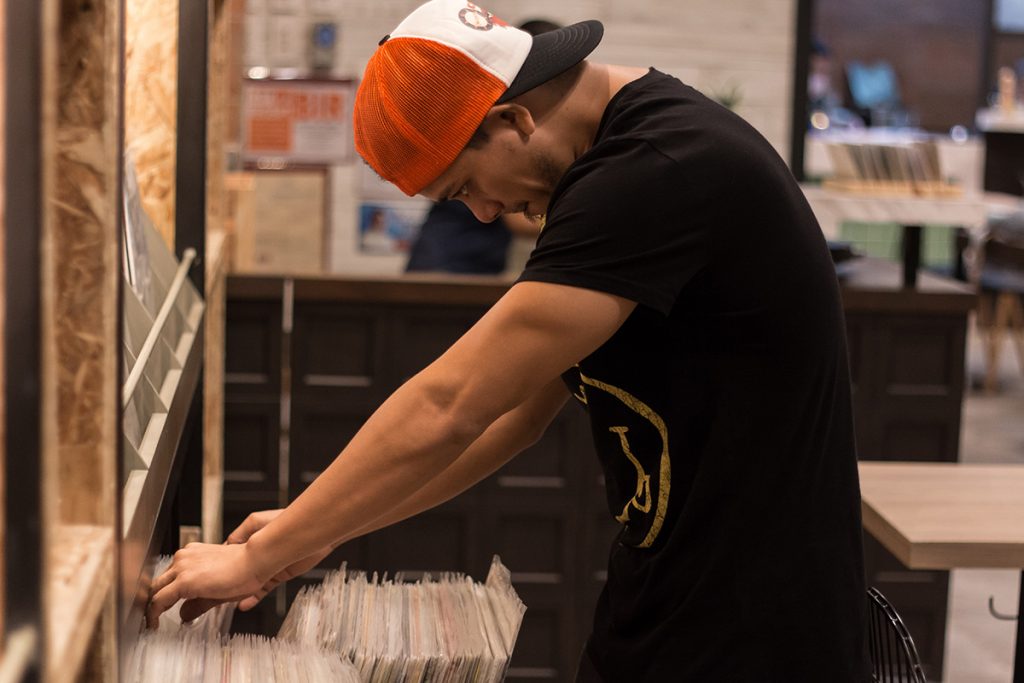 Can you tell us about yourself? What do you do for a living? What are your hobbies?
I'm a collector at heart. I love music and I love collecting CDs, cassette tapes, vinyl. Minsan pag wala akong gig, nag-su-surf kami ng mga kaibigan ko or magpunta sa ibang mga gigs. (Sometimes, when I don't have a gig, my friends and I go surfing or go to other gigs.)
We read that you also play for Yeng [Constantino].
Nagpa-play ako for Yeng Constantino as a bassist pag mga gigs. (I play for Yeng Constantino as a bassist for gigs.) We have a gig next week.
But you also have your own band, right? 
Chasing Blue Cars.
How long have you been in it?
Chasing Blue Cars was only formed in early 2017 but we planned it last year.
Do you guys have an album?
We've already released a single, so we are aiming to release an album before the end of 2017.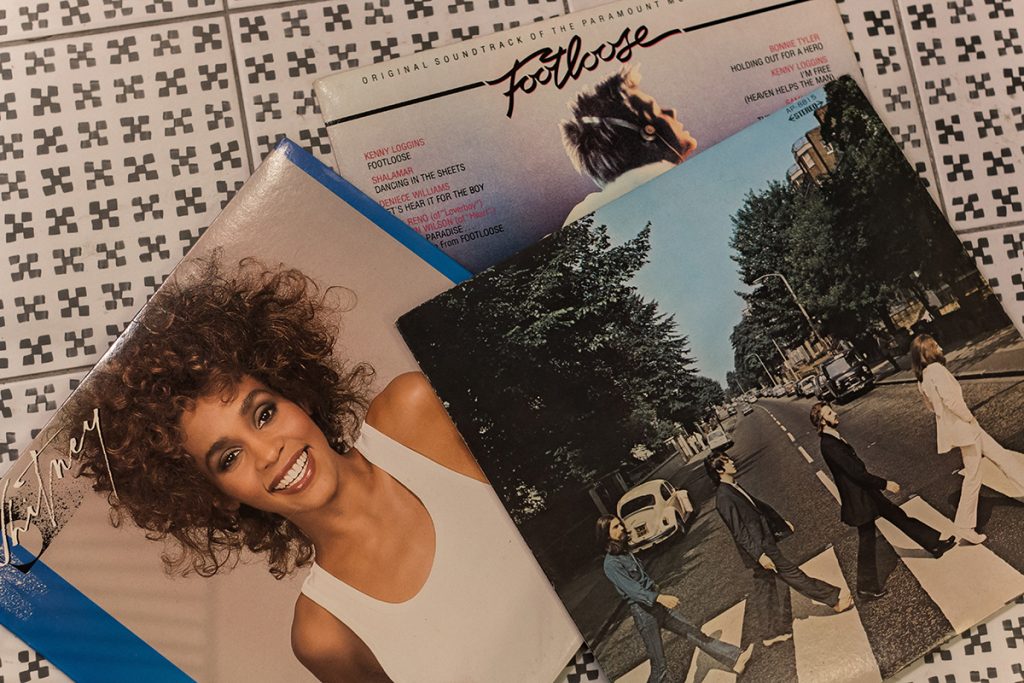 Do you have any musicians or bands that influenced or inspired you with your music?
For old school, Queen, Tears for Fears, Beatles, Public Enemy, Beastie Boys. For modern, Gym Class Heroes, Twenty One Pilots, Kendrick Lamar kasi magaling magsulat eh (because he writes well), Kanye West.
What's your favorite song to play on your guitar?
"Black Bird" by The Beatles. It's a genial song with chord melody arrangement; it sounds good.
How did you learn how to play guitar?
Way back nung high school ako, yung ate ko, nangongolekta kami ng mga cassette tapes. Tapos meron siyang nakita sa MTV, meron siyang inadikan na banda. Oasis. So naadik ako sa tunog. Bili siya ng cassette tapes, bili din ako, tig-isa kami. Sabi ko, "Gusto ko maging ganito, gusto ko maging gitarista, gusto ko tumugtog sa guitar ng Oasis." Laki ng influence nila sa akin. (Way back in high school, my older sister and I collected cassette tapes. Then she saw a band on MTV and got addicted. Oasis. I got addicted to the sound. My older sister bought cassette tapes; I bought as well. We had one each. I said, "I want to be like this, I want to be a guitarist, I want to play Oasis on guitar. They had a big influence on me.)
That band changed my life.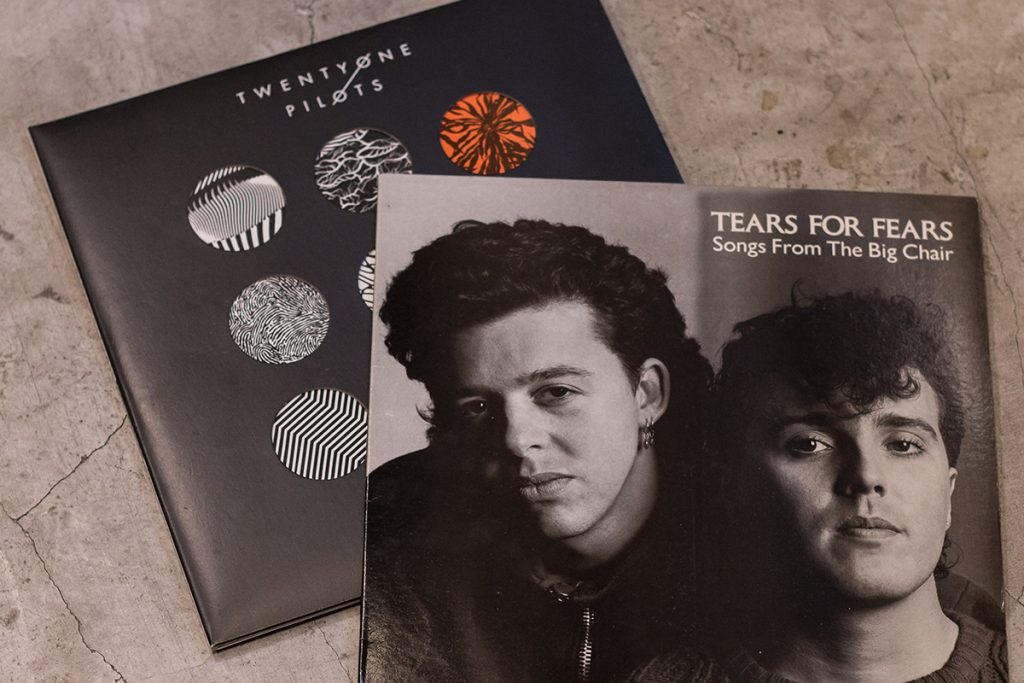 So you've mentioned your influences and your favorites. If you could play with any musician, who would it be and why?
There are so many good choices but I would go with Liam Gallagher.
He's coming here, are you going to watch?
Sad to say, may gig kami nyan eh, sa Albay kami, so hindi ako makakapunta. (Sad to say, we have a gig then in Albay, so I won't be able to go.)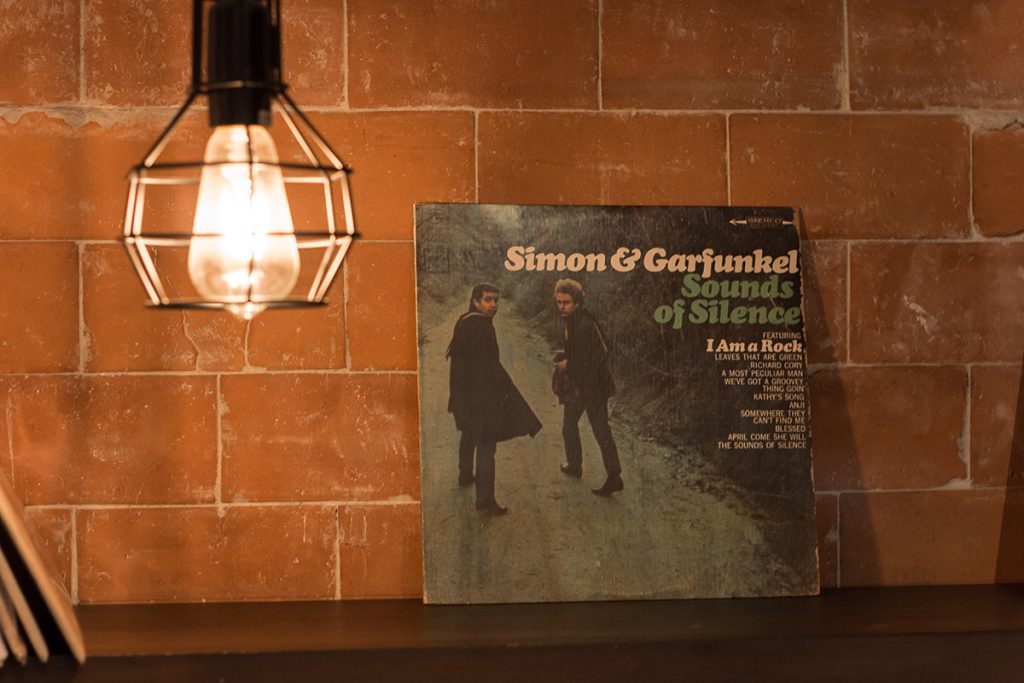 Let's talk about your records. What made you interested in collecting vinyl records? And since you collected cassette tapes and CDs first, why decide to go for vinyl next?
Nung bata ako, yung father ko meron siyang mga vinyl records. So habang pini-play nya yun, curious na ako. Siguro mga 6 years-old ako nun. (When I was a kid, my father had vinyl records. Whenever he played them, I became curious. I was probably 6 years-old then.)
Seven years ago, I was cleaning out my garage then I found my father's vinyl records. So kinuha ko sa garage, nilinis ko, kinuha ko yung turntable, I played it. Wow, ang sarap ng tunog. Napaka nostalgic talaga. Naalala ko yung father ko. Nandoon yung Elvis Presley, young Sinatra, Beatles, Simon and Garfunkel. Sabi ko, "Collect din kaya ako?" So nagpunta ako sa mga antique shop, nakakita ako ng mga secondhand na vinyl. Siguro namana ko rin talaga sa father ko yung pangongolekta ng vinyl. (So I took them from the garage, I cleaned them, got the turntable, and played them. Wow, the sound was really good. It was very nostalgic. I remembered my father. Elvis Presley was there, young Sinatra, Beatles, Simon and Garfunkel. I thought, "Why don't I collect, too?" So I went to antique shops, I saw secondhand vinyls. I think I really got the knack for collecting vinyl from my father.)
Since you started with vintage, would you say you have more vintage than new records?
I have more vintage.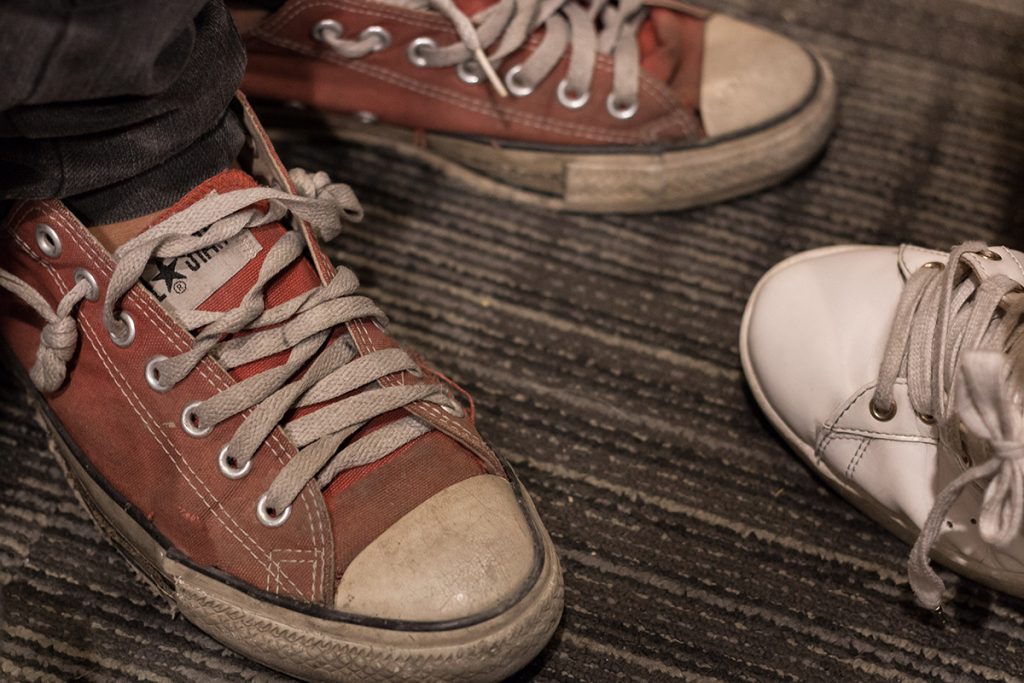 What do you love about vintage?
Siguro yung value ng album na nandoon sa sobrang tagal niya. Tsaka yung warm na tunog niya tapos yung crackles. (I think it's the value of the album that's there… And the warm sound and the crackles.)
Do you still remember the first vinyl record that you bought? 
Yes, ACDC. Highway to Hell. It's the first song I learned about from ACDC.
Is there a record that you're looking for that you want to buy but you still haven't found it?
Ocean Rain by Echo & The Bunnymen.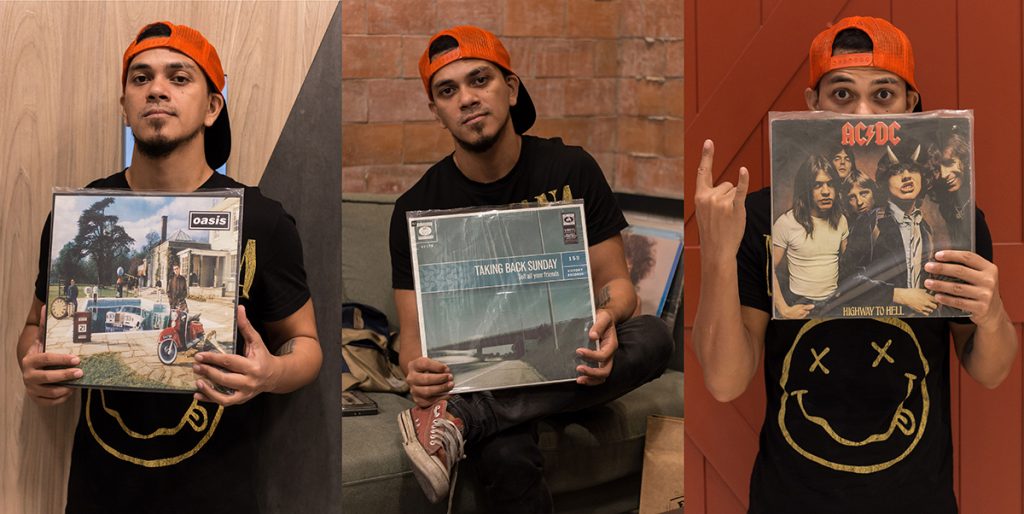 Do you have a record that you bought without knowing what songs were in it?
Meron. Jurassic 5. Alternative hip-hop siya na 90s. Ganda kasi ng album cover niya eh. Kasi minsan yung mga vinyl at yung mga album artwork, physically engaged ka rin eh na parang, "Ganda nito ah!" Ganon kasi yung ibang collectors, hindi minsan tumitingin sa laman na kanta. Minsan nag-eenjoy rin sila sa packaging ng album. Malaki talaga yung impact nung album cover. (I do. Jurassic 5. It's 90s alternative hip-hop. It had a nice album cover. Sometimes, with vinyl and album artworks, you can get physically engaged like, "This looks really nice!" Some collectors are like that; they don't always look at what the songs are. Sometimes they just enjoy the packaging of the album. An album cover really has a big impact.)
What is your favorite record that you've gotten from Satchmi?
Tell All Your Friends by Taking Back Sunday kasi soundtrack yan ng college ko eh. Emo emo ako noon eh. Bumili ako ng original CD nun. Talagang first track to last track tatapusin ko yan, walang skip skip kasi lahat ng kanta ang gaganda eh. Eh nawala sa akin yung CD na yun, pinahiram ko, di na bumalik. So nag punta akong Satchmi, pagtingin ko doon, "Uy okay toh, merong Taking Back Sunday." So binili ko sya. (Tell All Your Friends by Taking Back Sunday because it was the soundtrack of my college. I was "emo" then. I bought its original CD back then; from the first track to the last track I would finish it. I didn't skip any because all the songs were good. I lost that CD; I lent it and it was never returned. So I went to Satchmi and when I looked there, "Hey this is good, they have Taking Back Sunday." So I bought it.)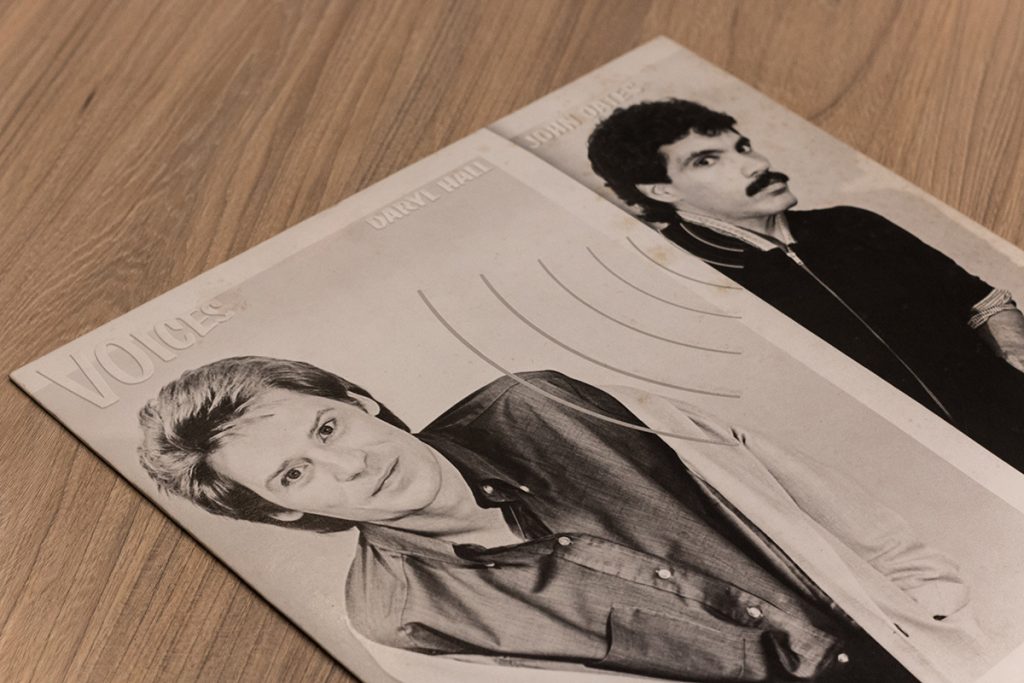 What is your favorite record that sounds good on vinyl?
Voices by Daryl Hall and John Oates. Vintage [ito]. Ganda ng mga kanta nito eh. Pag siya piniplay ko sa turntable ko, compared sa iba, ang ganda ng tunog. Clear. Kaya lagi ko siyang piniplay. Di ko ma-explain kung bakit ganon ka ganda yung tunog nya. (It's vintage. The songs in it are really nice. When I play it on my turntable, compared to other [records], the sound is great. Clear. That's why I always play it. I can't explain why it sounds so good.)
You have cassettes, you have CDs, you have vinyl. Do you have records or albums where you have all three forms?
Meron. Oasis, Be Here Now. [laughs] Baliw na baliw na ako sa Oasis noh? (I'm really crazy about Oasis, aren't I?)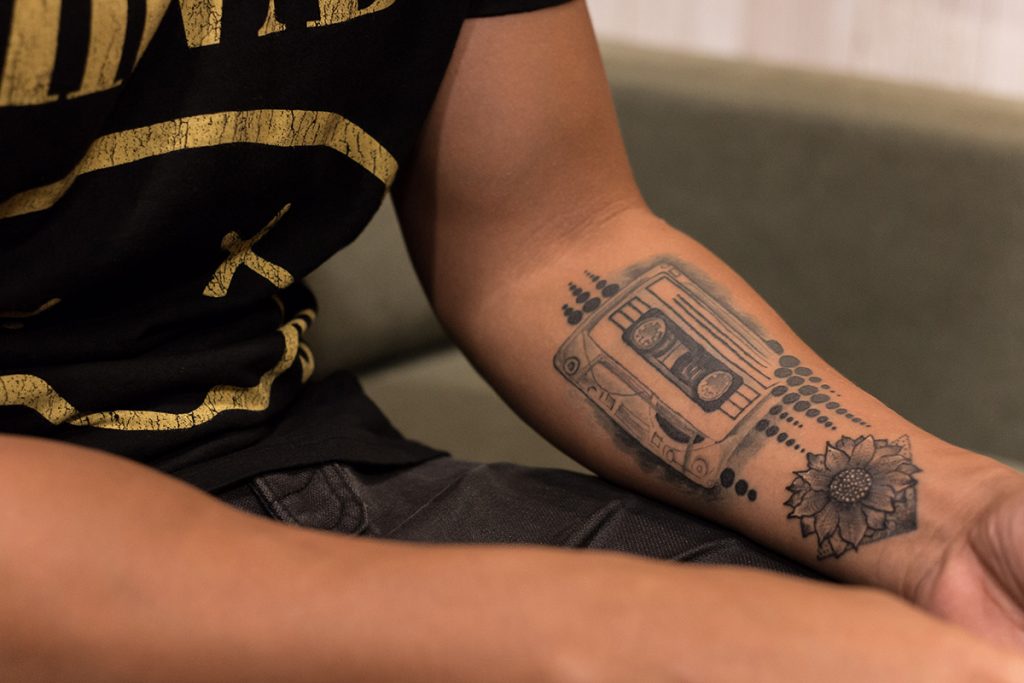 Why listen to music in vinyl form, apart from it having good sound?
For me, listening to vinyl records is experiencing the music. It forces you to listen to the whole album. [laughs] Walang skip skip. (No skipping.) And the experience, the act of placing the record on the turntable and setting the needle, it's awesome.
How about your cassette tape tattoo, when did you get it?
Nung May 7. It taught me how to love music. Dito kasi ako nag start eh, kaya pinalagay ko sya. (This is where I started, so I had it placed.) [It's] nostalgic.
Photographed by Nikko Veloso
Video by Karlo Cleope
Words by Danica Bibera
In celebration of Vintage Vinyl Month, we asked Emerson to dig through Satchmi UPTC's crates and choose his top 3 vintage records.